Today we're faced with both a growing number of ways to test new software and a growing number of automation testing tools to accomplish those tests.
And who really has time to keep track of the hundreds (and counting) of tools out there? Fortunately for you, we do.
Before you get lost in the deep indexes of Google trying to figure out the best software testing tools for your needs, take a look at this trusty list developed by the software testing experts here at The QA Lead.
The Best Functional & API Automation Testing Tools List
Here's a shortlist of the best functional & API automation testing tools:
Test automation is one of the most mature software testing segments, in comparison to manual testing. Manual QA on software development projects can be time-consuming and inefficient. The switch to automated test execution speeds up the process and helps development teams launch products faster and at a higher quality. Currently, the rise of good open-source options and the push toward Agile, DevOps, and multichannel models are transforming this segment, allowing teams to run test scenarios and test cases more efficiently and effectively through automated testing frameworks.
We can break down test automation tools into two subcategories: functional testing and integration/API testing.
Functional Testing
Functional testing is a type of software testing that checks whether the functionalities of the software or application work as expected or intended. This type of testing might also consider whether the software or product meets its requirements, as well as fulfills business cases or business processes. Functional testing can include mobile testing, web testing, app testing, GUI testing, cross-platform testing, cross-browser testing, desktop application testing, and more to ensure functionalities are correct on all platforms.
Integration/API Testing
Integration testing involves combining several modules of the software being built and testing whether those separate modules function as intended when working together. Integration testing often includes API testing, which ensures any APIs and other integrations within the software work as intended. Other actions that are part of integration testing can include web services testing. Testing these integrations is important for ensuring that APIs and other integrations are functional, dependable, and secure.
The QA Lead is reader-supported. We may earn a commission when you click through links on our site — learn more about how we aim to stay transparent.
List of the Best Automation Testing Tools
Here is the list of the best automation testing tools that are available on the market right now. Many are open-source, although they still offer lots of functionalities and integrations, making them great options for organizations with small QA budgets. You'll notice that some of the automation testing tools on this list often fit into both testing categories, or at least have capabilities in both categories. The section that we have included under-represents the tool's strengths in that section or category.
Functional Software Testing Tools
1. Testim — Best AI-powered test automation for scalability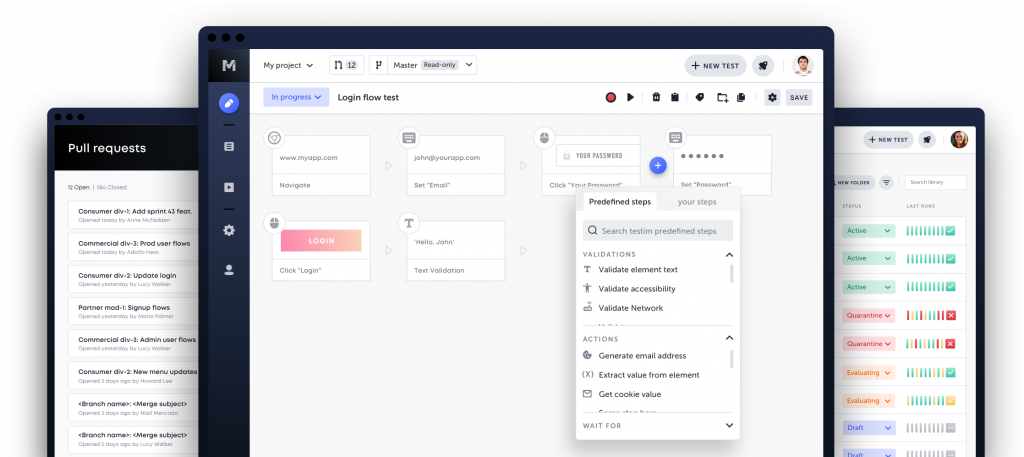 Testim Automate is an automated testing platform for fast authoring of AI-powered stable tests and tools to help you scale quality. It uses AI to identify and lock-in visual elements and increase test stability of UI functional tests. Tests can be extended with custom JavaScript that can run in or out of the browser.
Testim tests are recorded and then edited in its visual editor. AI-based locators automatically lock-in elements. Test steps are discrete objects that can be configured, shared, grouped and parameterized. Testim helps keep tests clean by identifying duplicate test steps to be replaced by shared objects.
Tests can run locally, on Testim's grid, or on compatible grids. Testim integrates with popular dev tools including collaboration, VCS, and CI servers. Testim also has a scheduler for planned runs. Test status helps manage the lifecycle of tests from draft to evaluating, active, or quarantine.
Dashboards show test run results and management reports demonstrate team and test performance as well as trends to help identify process improvements. Root cause is enabled by failed step indicators, before/after screenshots, parsed consoles, and network logs.
Testim costs from $1000/month. They also offer a free version with up to 1000 test runs per month.
2. Kobiton — Best for accessing and running manual and automation tests on multiple devices simultaneously
Kobiton is a cloud-based mobile app testing platform that allows users to build and execute manual and automated functional, performance, and visual Tests against real Android and iOS devices. Users can automate using both the Kobiton AI-driven scriptless solution and AI-assisted script generation.
Kobiton allows for parallel testing, giving the users the ability to run concurrent tests easily. Using Selenium Webdriver, users can run multiple tests in parallel across various browser and device combinations. Users can also run a full device lab consisting of local devices, private and public cloud devices.
Kobiton's scriptless automation empowers mobile test automation without requiring complex Appium scripts. It also allows the user to convert manual test sessions into dynamic automated test scripts.
Kobiton costs $50/month and offers a free 14 day trial with no credit card information required up front.
3. Worksoft Certify — Best for faster and easy to learn software testing
Worksoft Certify is a code-free testing solution for end-to-end business process tests as part of continuous testing, integration, and delivery cycles. It has built-in object recognition as well as business process testing and discovery, two more specialized and unique features that work in tandem with functional testing to give users more testing options for their software project.
With more companies adopting Agile methodology, Worksoft makes it easy to create and execute tests across custom, mobile and packaged apps within end to end Agile testing. The user can execute tests via their CI tool chain by using Worksoft Certify Execution Manager to execute continuous testing cycles.
Worksoft Certify also introduces browser based, three tier architecture that simplifies deployment, configuration management and execution of tests from the cloud. It offers multiple database configurations, extension of automated tests to mobile, as well as web services based infrastructure for easy integration and extension.
Worksoft Certify costs from $6000/year and offers a free demo.
4. Mabl – Best for low-code test automation
mabl is an intelligent, low-code test automation platform that enables teams to create, execute, and maintain functional and API tests from one platform.
Built to test the entire user experience, mabl integrates automated end-to-end testing into your development lifecycle with integrations to issue tracking, CI/CD, and collaboration tools.
Tests are created using the mabl Trainer, and as tests are executed mabl collects comprehensive diagnostic data to provide fast feedback on test failures and increase your deployment confidence over time. Plus, as your application evolves, AI-powered auto-healing means your tests learn and evolve with it.
mabl costs vary depending on functionality and test runs. They also offer a 14-day free trial.
5. SmartBear TestComplete — Best for users without development experience
SmartBear TestComplete allows users of any skill level to easily create and execute automated UI tests across desktop, mobile, and web applications. This easy-to-use scriptless automated testing tool helps speed up testing cycles, improve the quality of software, and ensure applications work as intended.
TestComplete is compatible with programming languages and scripting languages such as JavaScript, Visual Basic Script (VB Script), PHP, Ruby, and Python, as well as with platforms and software such as Flex, Ajax, and jQuery.
SmartBear TestComplete supports Selenium WebDriver tests created in various unit testing frameworks such as JUnit, TestNG, PyUnit, and PHPUnit. This allows users to carry out effective integration regression testing. SmartBear TestComplete also has record and playback options which makes it easy for the user to understand the process.
SmartBear TestComplete costs starts at $5077.00 per year starting with the base version, and offers a free demo.
6. Appium — Best for executing automated tests at low costs
Appium Appium is an open source test automation framework for use with native, hybrid and mobile web apps. It allows users to automate any mobile application using any programming language and testing framework with full access to backend APIs and databases from test code.
Appium can be used to automate large regression tests across Android and iOS applications. Users can execute cross-device tests for both Android and iOS without the need to learn more than one language. Appium also allows the user to separate an automated system test suite from Xcode and offload it's execution to a cloud environment.
Appium provides an easy-to-use user interface to assist in designing cases by previewing application screens and retrieving names of the elements the user intends on interacting with. Appium also provides an accessible documentation suite on the web. Lastly, Appium is Open Source with vast community support.
Appium is a free application.
7. Cucumber — Best for collaboration between development teams
Cucumber is a behavior-driven development (BDD) test automation tool written in Ruby. With Cucumber, test scenarios can be written in plain and natural language, making it easy to use for end-users with little to no programming skills.
Cucumber is a tool based on the behaviour driven development framework which is used for writing automated tests. Cucumber is available open source or through their Cucumber Studio package. Cucumber enables the user to write test cases that anyone of any skill level can understand, regardless of technical knowledge.
Cucumber creates easy to understand feature files for users and stakeholders who may not have extensive technical knowledge and hides the underlying complexities reserved for programmers and test engineers. This allows effective execution of writing and executing automated tests and provides a communication channel between business analysts, developers, and QA analysts.
Cucumber is available free and open source. Paid plans cost from $28.50/month for the entry level plan and come with a 14-day free trial.
IBM RFT is a testing tool that uses IBM's Script Assure technology to make maintaining test scripts more efficient. RFT also helps manage the full lifecycle of software development by integrating with other IBM software, such as IBM Jazz, IBM Rational Team Concert, and IBM Rational Quality Manager.
RFT provides automated testing capabilities for functional, regression, GUI, and data-driven testing, and supports a range of applications including .Net, Java, and Siebel applications.
RFT offers storyboard testing, allowing the user to simplify test visualization and editing using a natural language. Visual editing through application screenshots allows users to understand test flow and edit test actions without the need to read or write test script code. RFT also combines a recorder of user actions with multiple customization options and effective script maintenance capabilities.
Using ScriptAssure, RFT allows users to accommodate frequent user interface changes and updates. RFT also has an object repository, allowing users to reuse objects when required.
IBM Rational Functional Tester costs from $820.00/month and offers a 14-day free trial.
Formerly known as Quick Test Professional (QTP), Microfocus Unified Functional Testing is a testing tool with object recognition and the ability to carry out regression testing. UFT provides intelligent test automation with AI-based capabilities that accelerates testing across desktop, web, mobile, and mainframe applications.
UFT offers the capability of accelerated end-to-end testing and AI powered test automation, which reduces functional test creation time and maintenance while at the same time boosting test coverage and resiliency.
UFT provides a built-in object repository and storing elements, as well as reporting dashboards packed with interactive and actionable insights. With the test combinations generator, users can create test configurations by using the parameters in the tests and their values to create multiple possible data combinations.
UFT supports business process testing, a component-based testing framework which provides a strong platform to test complete business processes manually and automatically by combining manual and automation tests with less duplication. UFT is compatible with users of any skill level thanks to intuitive features like these.
UFT starting cost is $2,300/year and offers a free 30 day trial.
Integration / API Software Testing Tools
Crosscheck Networks SOAPSonar is a testing platform that specializes in API testing. The product also includes performance testing and security testing capabilities.
Crosscheck Networks SOAPSonar is fully automated and requires no scripting or script maintenance, allowing users of all skill levels to execute regression tests, and supports concurrent Agile development. API functional testing allows the user to validate the functional behaviour of API endpoints with client input simulations. Tests can be run on-demand or automated.
With SOAPSonar, transactions can be analyzed using success criteria rules for error conditions based on semantic analysis of API behaviour. QAs can capture API requests and response information and preserve the data for analysis after the testing run. This allows real-world scenario modelling of expected consumer behaviour with simultaneous loading transactions.
SOAPSonar does not list pricing information publicly.
IBM's Rational Test Workbench is a testing tool that allows for functional user interface testing, continuous integration testing, API testing, and integration testing.
IBM Rational Test Workbench provides software testing tools to support a DevOps approach. Rational Test Workbench helps the user automate and run tests earlier and more frequently to discover errors sooner using virtual components. This tool can also be integrated with other software to create test scenarios for mobile, web, and desktop applications.
Rational Test Workbench simplifies the test creation process with code-free authoring. This allows you to use story-board testing in the creation of functional and regression tests, combining natural language test narrative with visual editing. It also offers scriptless, visual performance test and workload models, using automatic management of dynamic server responses that accelerate the delivery of large-scale performance test suites.
IBM Rational Test Workbench costs from $820/month and offers a 14 day free trial.
CA Technologies Application Test is a tool for application testing that offers a codeless framework for integration testing and API testing. It is a collaborative automated testing solution designed to test and validate mobile and web applications along with APIs, web services, and legacy backend protocols.
CA Application Test encourages the user to move their testing lifecycle to much earlier phases of development, which helps with the overall software development lifecycle.
CA Application Test helps to implement service visualization for third party web services, ensuring environment availability and consistency for automation and performance test environments. It also helps the user with test data set up and management. You can integrate mobile testing into the delivery process with run-on-demand, release testing, and performance testing to generate tests and reuse them across different devices and mobile simulators.
Parasoft SOATest does not list pricing information publicly.
4. Parasoft SOAtest — Best for web services testing
Parasoft SOAtest utilizes machine learning (ML) and artificial intelligence (AI) to enable the tool to focus specifically on API and web services testing. The tool boasts strong test maintenance capabilities and can connect to continuous integration and continuous deployment tools like Jenkins or GitLab.
Parasoft SOATest is an automated API testing tool that allows users to perform functional testing, end-to-end testing, security testing, and load/performance testing. Parasoft SOATest supports a vast amount of common protocols such as Web Services, REST, JSON, HTTP, and XML.
Parasoft SOATest is built in such a way that the user does not require in-depth experience in API testing in order to work efficiently. With easily implemented codeless testing, you'll have access to a single, intuitive interface in order to automate complex testing scenarios for 120 message formats and protocols, covering micro services to mainframe. Users can also characterize tests and data from external sources such as Excel or XML.
Users can expect to get rapid feedback from their CI/CD pipeline, as Parasoft SOATest incorporates extensive functional testing along with critical load and security testing early into Agile development.
Parasoft SOATest does not list pricing information publicly.
SmartBear ReadyAPI is specifically designed for testing APIs and works well with DevOps and agile methodologies. ReadyAPI also supports Jenkins, Git, and Docker.
ReadyAPI provides the user with API functional testing, API performance testing, API security testing and API and Web Virtualization to ensure end-to-end quality for all web services. It is the platform for functional security and load testing of RESTful, SOAP, and GraphQL.
ReadyAPI can be integrated into any environment and has a Smart Assertion feature that you can use to create bulk assertions against a vast amount of end points quickly. It provides flexible automation options for integrating API testing into the user's CI/CD pipeline during every build.
Your QA team will be able to create comprehensive and data-driven functional API tests and can also execute parallel functional tests and job queuing using only their command-line.
ReadyAPI starts at $685/year and offers a 14-day free trial.
Other Automation Testing Tools
1. Katalon Studio — Best for end-to-end testing
Katalon Studio allows you to create test scripts with codeless execution, so those without programming skills can easily get up and running. Katalon Studio's capabilities can be upgraded with plugins and the tool works with Groovy and Java scripting languages.
Katalon Studio is a robust and comprehensive automation tool for API, web, desktop and mobile testing. It provides easy deployment by including all frameworks, ALM integration, and plugins in one package. Users have the capability to combine UI and API/Web services for multiple environments, such as Windows, Mac OS, and Linux.
Katalon Studio supports a data-driven approach as well as CI/CD integration, allowing you to receive rapid feedback. You can use Katalon Studio for both automated and exploratory testing, plus the tool supports AssertJ—one of the most potent assertion libraries often used in tandem with behaviour driven development (BDD).
Katalon Studio is suitable for both beginner and experienced QAers with both manual and scripting modes. It provides both pre-built and customizable coding templates. You can utilize auto-completion, auto-formatting, and code inspection features while executing tests.
Katalon Studio is free, however offers paid support services for small teams, businesses, and enterprises starting at $54/month. Paid support service options all come with a free trial.
2. Tricentis Tosca Testsuite — Best for accelerated and automated continuous testing
Tricentis Tosca offers several different types of testing including system applications and products (SAP) testing, regression testing, and continuous testing.
Tricentis Tosca accelerates end-to-end testing of the user's digital landscape. Tricentis Tosca provides model-based test automation, allowing the creation of reusable models. You are able to reuse data classes while working with extensive volumes of data. The requirement coverage gives your team a clear picture on the test coverage based on frequency and damage class, which helps with determining priority test cases.
Tricentis Tosca also provides template-based tests, which cover maximum scenarios with minimal effort. Users have the ability to pause a test execution in the middle of a run, a more user-friendly approach when dealing with unwanted pop ups. Tosca provides support for CI/CD and DevOps environments as well as the ability to run the same test scripts in cross-browser and cross-device tests.
Tricentis Tosca Testsuite starts at $29.00/month for the basic version and offers a free trial.
3. Ranorex — Best for parallel testing
Ranorex is a great choice for cross-platform and cross-browser testing. It is mainly used for GUI testing across desktop, mobile, and web. It supports Android and iOS testing as well.
Ranorex empowers users with a complete toolset for end-to-end testing of desktop, web, and mobile applications. Ranorex allows the user to automate tests on a Windows desktop and then execute them locally or remotely on real iOS or Android devices or simulators. You can run tests in parallel and accelerate cross-browser testing for Chrome, Firefox, Safari, and Microsoft Edge.
Ranorex has an easy-to-use user interface, allowing users less skilled in coding to adapt quickly to the platform. Ranorex provides an advanced object identification feature, which allows for reliable identification of elements in the application's user interface to better carry out stable automated tests. Your team can then receive detailed control information on each UI element for use in validation.
Ranorex costs $3590/year and offers a free 30 day trial.
Conclusion
Which of the automation testing tools on our list have you tried? Do any stand out to you, or are there any that we've missed that are part of your current automation solution? Let us know in the comments.
For more tools and tricks of the QA trade, subscribe to the QALead newsletter! Don't forget to check out our podcast as well, featuring opinions and ideas from QA experts.