Today we're faced with both a growing number of ways to test new software and a growing number of automation testing tools to accomplish those tests.
And who really has time to keep track of the hundreds (and counting) of tools out there? Fortunately for you, we do.
Before you get lost in the deep indexes of Google trying to figure out the best software testing tools for your needs, take a look at this trusty list developed by the software testing experts here at The QA Lead.
The Best Functional & API Automation Testing Tools List
Here's a shortlist of the best functional & API automation testing tools:
Test automation is one of the most mature software testing segments, in comparison to manual testing. Manual QA on software development projects can be time-consuming and inefficient. The switch to automated test execution speeds up the process and helps development teams launch products faster and at a higher quality. Currently, the rise of good open-source options and the push toward Agile, DevOps, and multichannel models are transforming this segment, allowing teams to run test scenarios and test cases more efficiently and effectively through automated testing frameworks.
We can break down test automation tools into two subcategories: functional testing and integration/API testing.
Functional Testing
Functional testing is a type of software testing that checks whether the functionalities of the software or application work as expected or intended. This type of testing might also consider whether the software or product meets its requirements, as well as fulfills business cases or business processes. Functional testing can include mobile testing, web testing, app testing, GUI testing, cross-platform testing, cross-browser testing, desktop application testing, and more to ensure functionalities are correct on all platforms.
Integration/API Testing
Integration testing involves combining several modules of the software being built and testing whether those separate modules function as intended when working together. Integration testing often includes API testing, which ensures any APIs and other integrations within the software work as intended. Other actions that are part of integration testing can include web services testing. Testing these integrations is important for ensuring that APIs and other integrations are functional, dependable, and secure.
The QA Lead is reader-supported. We may earn a commission when you click through links on our site — learn more about how we aim to stay transparent.
List of the Best Automation Testing Tools
Here is the list of the best automation testing tools that are available on the market right now. Many are open-source, although they still offer lots of functionalities and integrations, making them great options for organizations with small QA budgets. You'll notice that some of the automation testing tools on this list often fit into both testing categories, or at least have capabilities in both categories. The section that we have included under-represents the tool's strengths in that section or category.
Functional Software Testing Tools
1. Testim — Best AI-powered test automation for scalability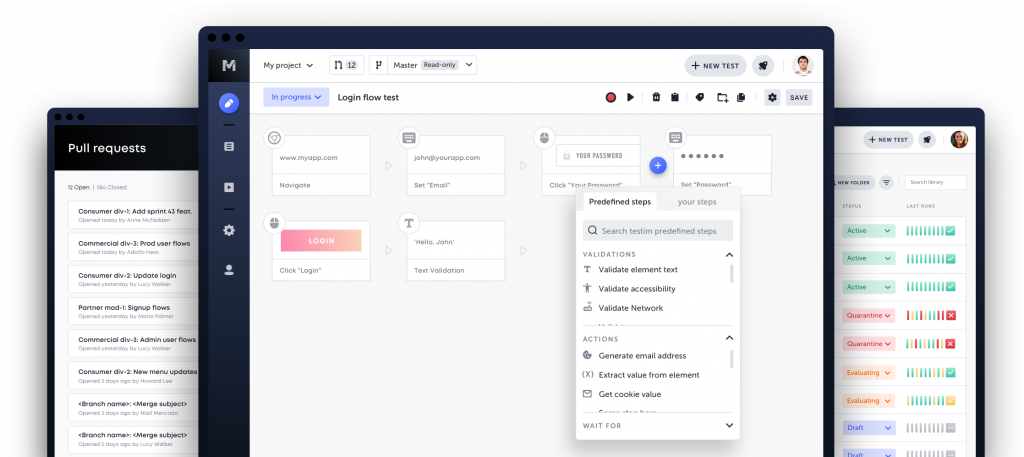 Testim uses AI to identify and lock-in visual elements and increase test stability of UI functional tests. Tests can be extended with custom JavaScript that can run in or out of the browser.

Testim tests are recorded and then edited in its visual editor. AI-based locators automatically lock-in elements. Test steps are discrete objects that can be configured, shared, grouped and parameterized. Testim helps keep tests clean by identifying duplicate test steps to be replaced by shared objects.
Tests can run locally, on Testim's grid, or on compatible grids. Testim integrates with popular dev tools including collaboration, VCS, and CI servers. Testim also has a scheduler for planned runs. Test status helps manage the lifecycle of tests from draft to evaluating, active, or quarantine.
Dashboards show test run results and management reports demonstrate team and test performance as well as trends to help identify process improvements. Root cause is enabled by failed step indicators, before/after screenshots, parsed consoles, and network logs.
Testim costs from $1000/month. They also offer a free version with up to 1000 test runs per month.
2. Kobiton — Kobiton is a cloud-based mobile app testing platform that allows users to build and execute manual and automated functional, performance, and visual Tests against real Android and iOS devices. Users can automate using both the Kobiton AI-driven scriptless solution and AI-assisted script generation.
3. Worksoft Certify — Worksoft Certify has built-in object recognition, as well as business process testing and discovery, two more specialized and unique features that work in tandem with functional testing to give users more testing options for their software project.
4. Selenium WebDriver — Selenium WebDriver is a Selenium project that offers regression testing and supports multiple operating systems and browsers, including Windows, Linux, Mac, Chrome, Firefox, and Internet Explorer.
5. SmartBear TestComplete — TestComplete is compatible with programming languages and scripting languages such as JavaScript, Visual Basic Script (VB Script), PHP, Ruby, and Python, as well as with platforms and software such as Flex, Ajax, and jQuery.
6. Appium — Appium is an automation framework and testing framework with a focus on mobile application testing. It's also good for user interface testing.
7. Cucumber — Cucumber is a behavior-driven development (BDD) tool written in Ruby. With Cucumber, test scenarios can be written in plain and natural language, making it easy to use for end-users with little to no programming skills.
8. IBM Rational Functional Tester (RFT) — RFT is a testing tool that uses IBM's Script Assure Technology to make maintaining test scripts more efficient. RFT also helps manage the full lifecycle of software development by integrating with other IBM software, such as IBM Jazz, IBM Rational Team Concert, and IBM Rational Quality Manager.
9. HP Unified Functional Testing (UFT) — Formerly known as Quick Test Professional (QTP), UFT is a testing tool with object recognition and the ability to carry out regression testing as well.
Integration / API Software Testing Tools
1. Crosscheck Networks SOAPSonar — Crosscheck Networks SOAPSonar is a testing platform that specializes in API testing. The product also includes performance testing and security testing to round out the platform and test suite.
2. IBM Rational Test Workbench — IBM's Rational Test Workbench is a testing tool that allows for functional user interface testing and continuous integration testing, in addition to API and integration testing.
3. CA Technologies Application Test — CA Technologies Application Test is a tool for application testing that offers a codeless framework for integration testing and API testing.
4. Parasoft SOAtest — Parasoft SOAtest utilizes machine learning and artificial intelligence to enable the tool to focus specifically on API and web services testing. The tool also has capabilities in test maintenance and can integrate into continuous integration and continuous deployment tools such as Jenkins or GitLab.
5. SmartBear ReadyAPI — This tool is specifically designed for testing APIs and works well with DevOps and agile methodologies. ReadyAPI also supports Jenkins, Git, Docker, and more.
Other Automation Testing Tools
1. Katalon Studio — Katalon Studio allows users to create test scripts and allows for codeless execution, so those without programming skills can easily get up and running. Katalon Studio's capabilities can be upgraded with plugins, and the tool works with Groovy and Java scripting languages.
2. Tricentis Tosca Testsuite — Tricentis Tosca offers several different types of testing including System Applications and Products (SAP) testing, regression testing, and continuous testing.
3. Ranorex — Ranorex is a great choice for cross-platform and cross-browser testing. It is mainly used for GUI testing for desktop, mobile, and web. It supports Android and iOS testing as well.
Conclusion
Which of the automation testing tools on our list have you tried? Do any stand out to you, or are there any that we've missed that are part of your current automation solution? Let us know in the comments.
For more tools and tricks of the QA trade, subscribe to the QALead newsletter! Don't forget to check out our podcast as well, featuring opinions and ideas from QA experts.